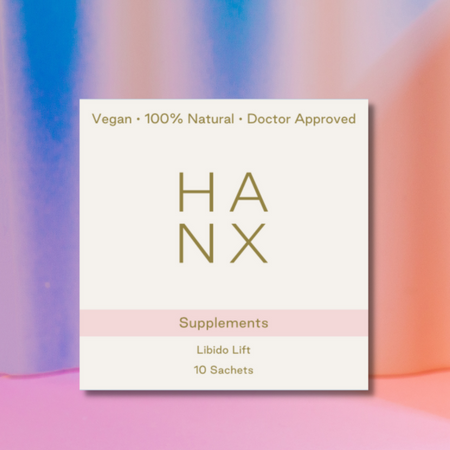 HANX Libido Lift
Natural ingredients
Backed by science
Vegan
Gluten-free
Want to support your sex drive? Introducing HANX Libido Lift, our first ever natural supplement to support libido in women.Read more
Want to support your sex drive? Introducing HANX Libido Lift, our first ever natural supplement to support libido in women.
Formulated by our Co-Founder, gynae expert Dr. Sarah Welsh, with input from our expert nutritionist partner, Libido Lift is a vegan-certified food supplement featuring:
maca root powder to boost mood
vitamin B6 to help reduce fatigue
pine bark extract to support blood flow
A delicious peach flavour, it can be taken either two hours before sex, or as part of your daily well-being routine. Simply stir one sachet of the natural peach-flavoured powder into your drink of choice, sip and get ready to get in the mood. Each box contains 10 sachets.
Less
The Inside Scoop
Rated 4.8 out of 5
Best condoms
Vegan ✅ No babies made ✅
Comfortable
Comfortable, and so much more feeling than with the regular product
Thank you
Contraception made with women in mind
After struggling with contraception for so long and hating the feel of generic c...
As a vegan I found it really hard to…
As a vegan I found it really hard to find contraceptives/condoms so I am super h...
Burning questions?
How often should I take Libido Lift?
You can take it daily as a supplement, or as part of a wellbeing routine 2 hours before intimacy.
What can I mix Libido Lift with?
Water, soft drinks, cocktails or juice - you can mix Libido Lift with any drink of choice. Our top tip: sip in a fruit smoothie to bring out the delicious natural peach flavour.
Is Libido Lift vegan?
Yes! Our Libido Lift is vegan certified and gluten free.
Can I use Libido Lift if I'm pregnant?
We would not recommend using Libido Lift during pregnancy. Please speak to your GP or health provider regarding any supplements during pregnancy.
What are the ingredients of Libido Lift?
Our Libido Lift supplement contains : Maca Root Powder, L-Arginine Nitrate, Sweetener (Steviol Glycosides from Stevia), Acidity Regulator (Citric Acid), Natural Flavouring, Pine Bark Extract (95% Proanthocyanidins), Natural Colours (Beta Carotene, Beetroot Red, Tribulus Terrestris Extract 35:1, Vitamin B6 (pyridoxal 5-Phosphate Monohydrate).
We know this sounds like a lot, but we blame the proper chemical names! We've made it as natural as possible, and it's been designed between a gynaecology doctor and nutritionist.
How soon will I feel results?
Libido Lift is natural, and uses nutrients to help the body relax. If you naturally have lower levels of the vitamins included in Libido Lift, it may take longer to see an impact from the product. If this is the case, we would recommend taking Libido Lift consistently across several days to see if this helps drive a benefit.
My product has hardened slightly in the packet - is it still okay?
Product a little harder than usual? Not to worry, this is a natural occurrence, and from time to time, the supplement sachets can harden. Simply shake the sachet prior to adding to your drink of choice, and make sure it dissolves fully.