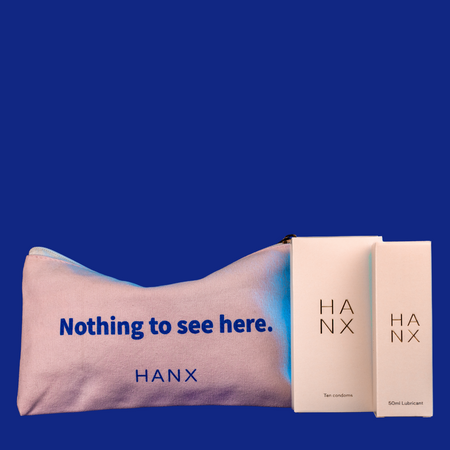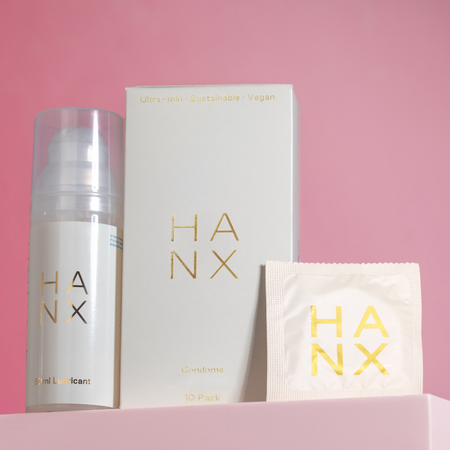 The Bestsellers Bundle
Now that's what we call value. We've created a kit of the greatest hits of HANX, bringing together our most popular products in one ... Read more
Now that's what we call value. We've created a kit of the greatest hits of HANX, bringing together our most popular products in one handy kit - and save 20% off RRP!
The Bestsellers Bundle includes: 
1 x our 10 Pack of Condoms (RRP £12.99). The first product we ever launched and they've been a steady winner ever since. Why? Ultra-thin, vegan, biodegradable condoms. Plus: no nasty, rubbery, chemical scents here. 
Let's up the stakes. It also includes 50ml bottle of our super-gentle, water-based Lubricant (RRP £14.99). It's safe to use with condoms and sex toys, and proudly unflavoured - no thrush-inducing sugary cherry flavouring here!
Our subtle pouch (RRP £6.99) has been stealing hearts since it dropped. It's perfectly sized to fit a pack of HANX and a Lubricant, plus any other sexual wellness essentials/snacks you might want to carry around.
Less
The Inside Scoop
Rated 4.8 out of 5
Best condoms
Vegan ✅ No babies made ✅
Comfortable
Comfortable, and so much more feeling than with the regular product
Thank you
Contraception made with women in mind
After struggling with contraception for so long and hating the feel of generic c...
As a vegan I found it really hard to…
As a vegan I found it really hard to find contraceptives/condoms so I am super h...