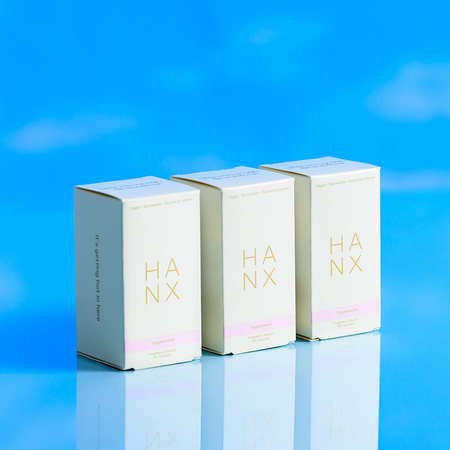 Pregnancy Support
Oh, baby! Meet HANX Pregnancy Support, a new all-natural supplement to be taken pre, during and post-pregnancy. We're beyond excited... Read more
Oh, baby! Meet HANX Pregnancy Support, a new all-natural supplement to be taken pre, during and post-pregnancy. We're beyond excited to reveal our first supplement for expectant mums, designed in-house at HANX and led by our Co-Founder, gynaecology and obstetrics doctor, Dr. Sarah Welsh, during her own pregnancy. With input from our expert nutritionist partner, we've created a supplement to offer ideal nutritional support including:
Folic Acid and Iron to support baby's healthy development

Vitamin B6 to help regulate hormonal activity
Each box contains 60 capsules. Take 2 per day, ideally when eating.
Less
Why we love it
You'll find no nasties here. We've created Pregnancy Support without any added sugars, preservatives, sweeteners or colours. Just high quality ingredients from our highly trusted suppliers.
How to use
It's super simple. We recommend taking two capsules a day, ideally with food.
The Inside Scoop
Rated 4.8 out of 5
Best condoms
Vegan ✅ No babies made ✅
Comfortable
Comfortable, and so much more feeling than with the regular product
Thank you
Contraception made with women in mind
After struggling with contraception for so long and hating the feel of generic c...
As a vegan I found it really hard to…
As a vegan I found it really hard to find contraceptives/condoms so I am super h...
Burning questions?
Who can take Pregnancy Support?
We've designed this natural supplement for those trying to conceive, are currently pregnant or breastfeeding.
What's included?
Each bottle of Pregnancy Support contains 60 x capsules. We recommend taking 2 per day, ideally with food.
What's it made from?
Please be aware, this supplement contains Soya. The full ingredients:
Vitamin C (Ascorbic Acid), Choline (L-Choline Bitartrate), Empty Capsule Shell (Hydroxypropyl MethylCellulose), Iron (Ferrous Bisglycinate), Zinc Citrate, Vitamin E, Coenzyme Q10, Vitamin B3 (Nicotinamide), Manganese (Gluconate), Inositol Powder, Vitamin B1 (Thiamine Hydrochloride), Vitamin B6 (Pyridoxine Hydrochloride), Vitamin D3, Selenium (Seleno Methionine), Vitamin B12 (Methylcobalamin Hydrate), Copper (CopperGluconate), Vitamin K2 (Menaquinone) (Soya), Vitamin B5 (Calcium D-pantothenate), Marigold Flower, Folic Acid, Chromium Picolinate, Iodine (Potassium Iodide), Biotin (D-Biotin), Molybdenum (Sodium Molybdate), Vitamin B12 (Methylcobalamin Hydrate).